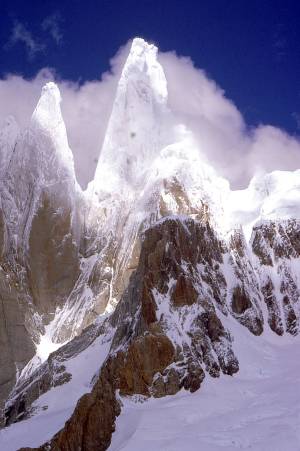 Cerro Torre from the base camp
To hike around Cerro Torre across the Hielo Continental is certainly an extreme undertaking for a hiker. Only the best tents will resist the violent storms. It is not always possible to dig in into the snow. The noise of the wind is awful. In a regular storm, it is not easy - if impossible - to walk against the wind. Often it blows from N to S, so come from N, but this can also change. You will need good mountain gear. The wind lifts the running water from the glaciar and blows it through everthing. Be careful with crevasses and hidden pools of melt water below the ice. In summer there is usually lots of water running around.
Location: Chaltén, Argentina
Relevant map: JLM No. 18 (only for overview)
Access: By bus from Chile or Argentina
Characteristics: Beautiful trekking in Patagonia

Fixing the tent was a useless task.