Licancabur is a perfect cone. It can be climbed from Chile or Bolivia, from where the Laguna Verde is located. In each case, it is said to be a strenuous work up the loose debris. Agencies in San Pedro de Atacama offer the ascent as part of a several day trip. There is no major volcanic activity.
Location: Near San Pedro de Atacama, see map San Pedro
Relevant maps: JLM No. 05 Altiplano, No. 12 San Pedro de Atacama
Access: from San Pedro, 4WD rec. to base on either side, 1 day to top, arrange tour in San Pedro or rent a car.
Characteristics: Easy ascent, but in high altitude, ca. 1000m difference.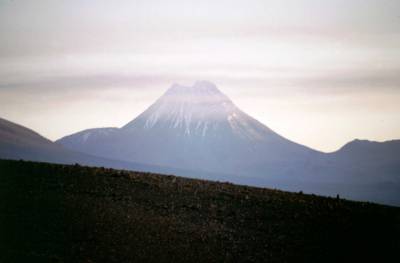 Licancabur from below.