Sairecabur is the close neighbour to Licancabur. Its shape does not much resemble a volcano, however, it is a little bit higher than Licancabur. Volcanic activity seems to have seized. A dirt road leads up to ca. 5300m to a sulfur mine. From there scramble up easily to the top. Good views to the Laguna Verde in Bolivia. Agencies in San Pedro de Atacama offer the ascent as a one-day tour.
Location: Near San Pedro de Atacama, see map San Pedro
Relevant maps: JLM No. 05 Altiplano, No. 12 San Pedro de Atacama
Access: from San Pedro, 4WD rec., 4h to top, arrange tour in San Pedro or rent a car, ca. 240 US$ one day.
Characteristics: Easy ascent, but in high altitude, ca. 600m difference.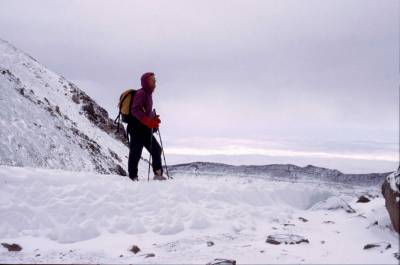 The rare event of a snow storm on Seirecabur.