ARENALES, ARGENTINA
Location: 135 km southwest Mendoza, see map Overview Chile - Argentina
Access: By car or bus to Tunuyan, from there to Manzano Histórico. By car possible until hut or camp, from there 0.5-2h to the rocks, public transport until some 10km before, there is a guy who takes you up for money.
Characteristics: Alpine style granite climbing, more than 200 routes on ca. 20 cliffs, good granite, highly recommended
Height: until 500m, altitude until 3500m
Season: Summer
Guidebook available, see maps and guidebooks, see also map below
More pictures from climbing...
The Cajón de Arenales is an excellent granite climbing area near Mendoza. The faces are up to 400m high, however, mostly around 200m. The rock is of good quality with cracks and small holds. There is a lot of alpine and sport climbing with bolts. As an already popular area with hut, there are always people around. Highly recommended.
| | |
| --- | --- |
| The Agujas from below. | View to the Tres Picos de Amor |
| The small unguarded hut. | Climbing in the cracks of Aguja Principal. |
---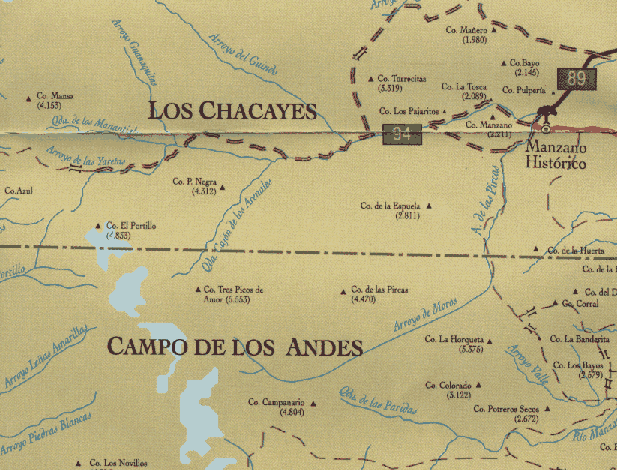 More pictures from climbing...